Best wireless practices from Access Networks' Nathan Holmes include using sectorized WAPs, thoughtful device positioning, weather/landscape considerations and more.
These days, custom integrators can offer homeowners a variety of ways to enjoy home entertainment and other technologies outdoors, and just like indoor installations one of the most in-demand technologies is a robust wireless home network.
Providing your customers with the most reliable, stable, fast, and capacious network boils down to good design – of course, this goes for indoors and outdoors.
Certainly, high-quality, enterprise-grade routers, switches, and wireless access points (WAPs) contribute to a network's performance, but if the selection and positioning of the WAPs are flawed, poor connectivity and coverage will ensue, leading to dissatisfied customers and costly redos. Enterprise-grade network provider Access Networks for best practices to address home network coverage outdoors in particular.
Roadmap to Exceptional Exterior Home Network
"Network design is an art form, especially when it comes to the outdoors," says Nathan Holmes, Access Networks' director of training and development.
"Given all of the environmental factors that can affect Wi-Fi performance — landscaping, trees, weather, varied elevations, water features, neighboring networks, and the sheer size and scope of the property, developing a networking blueprint for the outdoor space is often tricker and more complicated than for the inside of a home."
Comprehensive, detailed design schematics are the lifeblood of any networking project, Holmes notes. It's a lesson many integrators have learned as they continue to shore up networks for a burgeoning work-from-home market.
Whether it's adding and repositioning WAPs to deal with bigger bandwidth demands, finding and fixing weak connection spots, or implementing heavier cybersecurity measures, the home network is healthier than it's ever been, thanks in part to good design practices, he adds.
Integrators can provide reliable Wi-Fi network coverage for extensive exterior spaces if perhaps customers are considering technology for their patios, decks, gazebos, pool houses, boat docks, and other outdoor areas.
And while it may be relatively simple to add a WAP to an indoor space, trenching new cabling into an established yard is a disruptive and costly endeavor. Getting the outdoor network system design and installation right the first time is critical. Holmes offers the following tips:
Start with a Very Thorough Site Survey
Don't make the mistake of mounting a few access points to the exterior of the house and calling it a day, or relying on the interior network to bleed signals into the yard. This is a mediocre plan at best. Your customers want a seamless Wi-Fi experience as they walk outdoors without any degradation of signal strength or random dead spots.
The rise of outdoor living is driving the demand for better outdoor connectivity, not only for streaming audio and video content, says Holmes, but for controlling security cameras, door locks, pool pumps, lighting, motorized gates and more.
Once you have an idea of how your clients will be using Wi-Fi, walk the entire property, noting locations of large rocks, outbuildings, walkways, hardscaping and landscaping features, elevation changes — anything that could impede signal transmission.
Also identify places where WAPs could be mounted — light poles, gates, the eaves of the main house, and other structures. This will serve as your map for the WAP layout and design.
Define Coverage Zones & Specify Applicable WAPs
Most customers don't need nor want Wi-Fi coverage on every square inch of the property. "You'll get better performance from a network and prevent signals from escaping into neighboring yards by focusing Wi-Fi energy at specific predefined areas," Holmes notes.
For example, a long driveway from which homeowners utilize a W-Fi connection to control lights and door locks, requires a strong, consistent signal all the way from the property entrance to the front door, but areas adjacent to the driveway do not require Wi-Fi signal thus radiating Wi-Fi energy in all directions would be unnecessary and potentially cause interference to a neighbor. The same principal applies for walkways to beaches, sidewalks around swimming pools, and other thoroughfares to popular destinations.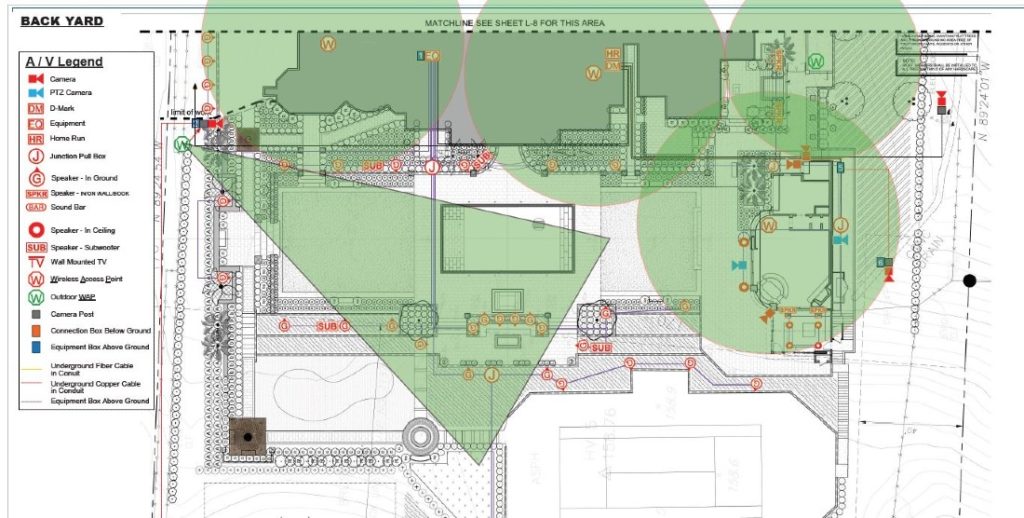 A sectorized WAP, which is engineered to direct Wi-Fi signals in a single direction in a specific pattern, does the trick in these situations. Because the transmission path is so well defined, signals travel further with minimal degradation than Wi-Fi transmission by an omnidirectional WAP.
Sectorized WAPs are ideally suited for long, narrow Wi-Fi corridors, but they can also be configured to provide wide coverage. You'll just need multiple units strategically positioned.
Another benefit: They're great for parties. While many residential outdoor WAPs permit only one person access to Wi-Fi at a time, Holmes explains, sectorized WAPs – which were originally intended for use in stadiums – enable you to divide the area. Typically covered by a single omnidirectional access point, smaller sections supported by a sectorized WAP enable multiple people to access the Wi-Fi simultaneously.
Despite all of these advantages, sectorized WAPs "should not be the only tool in your toolbag," Holmes says. "They aren't for every location or every project."
Application & Landscape Considerations Impact Installation
It's best to specify WAPs according to their application, he adds — omnidirectional WAPs for wide 360-degree coverage in a backyard, for example, and sectorized WAPs for focused 30- to 120-degree coverage.
Another consideration optimizing your design based upon the Wi-Fi performance expected by the client in each area of the property. You'll need to get your customer's input for this. If their biggest concern is speed, go with a design based on 5 GHz frequency parameters. For long range and consistent connectivity? A design based on 2.4 GHz is suggested.
Finally, Holmes comments, be sure to consider the impact of the environmental and landscape conditions on the coverage. Seasons change. Trees that might have been bare when you initially designed the outdoor network are now in full bloom. Consider it Mother Nature's interference.
That huge expanse of grass in the backyard now holds a swimming pool. Factor into your network design natural changes to the property and your customers' home improvement plans to preclude issues later. It's an important last step to ensure a quality outdoor Wi-Fi experience.